RV Manufacturers At The Show
The following manufacturers plan to exhibit their RVs at America's Largest RV Show. Please check back for any changes or additions.
Company
Location
Type of RV/Product
Product Line
AIRSTREAM/A division of Thor
A8
Travel Trailer
Airstream Atlas, Airstream Interstate, Airstream Basecamp
ALLIANCE RV
A4
5th wheel, toy hauler
Paradigm, Valor, Avenue
ALINER
F1
Popup camper, travel trailer
Aliner
AMERICAN COACH
A3
Class A



Class B
American Dream, American Eagle, American Tradition
American Patriot
CROSSROADS
F6
Travel trailer, 5th wheel
Cruiser, Zinger, Sunset Trail, Redwood
CRUISER RV
F7
Travel Trailer
Hitch, Radiance, MPG, Twilight
DRV SUITES
F7
5th Wheel
Full House, Mobile Suites
EMBER RECREATIONAL VEHICLES
D5
Travel Trailer
Overland Micro Series, ROK Overland Series: 201FBQ, 191MSL, 190MDB, 170MRB
FLEETWOOD RV
A3
Class A
Discovery LXE, Flair, Flex, Fortis, Frontier, Frontier GTX
FOREST RIVER
A1, B3, D1
Class A & C
Travel Trailer, 5th wheel, Toy Hauler, Park Model
A1: Ahara, Alta, Artic, Alpha Wolf, Aurora, Avenger, Berkshire, Charleston, Cardinal, Cheroke, Flagstaff, Flagstaff Tents, Freedom Express, Grey Wolf, Heritage Glen, Sandpiper, Shasta, Tandara, Vide, Viking, Independence Trail, Wildwood, Wildwood FSX, Wolf Pack, Wolf Pup Work & Play, XLR, XLR Boost

B3: Adrenaline, Apex, Beyond, Catalina Park Model, Crosstrail, Encore, Galleria, Leprechaun, Mirada, Nova, Palomino TC, Prism, Puma, R Pod, Rockwood, Sabre, Pursuit, Riverstone, Shasta Phoenix, Solaire, Surveyor, Spirit, Viking, Wildcat

D1: Brookstone, Catalina, Cedar Creek, Chaparral, Clipper, Columbus, Crusader, Hemisphere, Impression, Entrada, Freelander, IBEX, Georgetown, Lacrosse, No Boundaries, Salem, Salem FSX, Sanibel, Sierra, Tracer, SportsCoach, Sunseeker, Vengeance Rogue
FREIGHTLINER CUSTOM CHASSIS DAIMLER
506
chassis
chassis
GRAND DESIGN RV
F8
Travel Trailer, 5th wheel, toy hauler
Transcend, Imagine, Reflection, Solitude, Momentum
GRECH RV
E5
Class B
Strada, Strada-ion, Turismo, Turismo-ion, Turismo 4x4,
Turismo-ion 4x4, Terreno, Terreno-ion

GULF STREAM COACH INC
B1
Travel Trailer
Ameri-Lite, Conquest Class C, BT Cruiser, Vintage Cruiser, Vista Cruiser Envision SVT
HEARTLAND RECREATION VEHICLES
F7
Travel Trailers, 5th Wheels, Toy Haulers
Heartland: North Trail, Prowler, Bighorn, Landmark, Milestone,
SundanceLithium, Cyclone, Gravity, Road Warrior, Torque Cruiser RV: Hitch, Radiance, MPG, Twilight DRV: Full House, Mobile Suites
HOLIDAY RAMBLER
A3
Class A
Admiral, Armada, Endeavor, Invicta, Nautica, Navigator, Vacationer
INTECH TRAILERS
A10
Travel Trailer
Flyer, Luna, Sol, Terra
JAYCO/STARCRAFT RV/ENTEGRA COACH/HIGHLAND RIDGE RV
E6
Class A, B & C
Travel Trailers, 5th wheels, toy haulers
Jayco Towable: Jay Feather, White Hawk,
STARCRAFT/ENTEGRA: Jay Flight, 5th Wheel: Eagle, North Point, Pinnacle, Seismic
Class C: Jayco Motorized: Redhawk, Greyhawk, Melbourne, Seneca
Class B: Swift, Terrain
Class A: Alante, Precept, Embark
Highland Ridge: Open Range Conventional
TT, Open Range Light TT, Range Lite TT, Open Range TT, Mesa Ridge TT, Mesa Ridge XLT FW, Open Range Roamer
FW, Open Range FW, Mes Ridge FW Travel Trailer: Starcraft: Autumn Ridge Outfitter TT, Super Lite Maxx TT, Super Lite TT
Entegra: Launch, Ethos, Expanse
Class C: Odyssey, Esteem, Qwest, Accolade Class A Vision, Emblem; Diesel: Reatta, Aspire, Anthem, Cornerstone
KEYSTONE RV COMPANY
B2
Travel Trailer
5th Wheel
Toy Hauler
Park Model
Expandable Travel Trailer

Arcadia, Bullet, Cougar, Hideout, Impact,
keystonerv.com Outback, Passport, Springdale

Alpine/Avalanche, Fuzion/Retreat, Montana, Montana High Country, Raptor/Carbon, Retreat, Sprinter

Dutchmen: Astoria, Aspen Trail, Coleman,
Kodiak, Voltage, Yukon
KZ RV
A2
Travel Trailer, 5th wheel and toy haulers
Sportsmen Classic, Escape, Sportsmen SE, Connect/SE

Durango Half-Ton Durango, Durango Gold, Venom/V-Series

LANCE CAMPER
A3
Truck camper, Travel Trailer
650, 825, 865, 850, 855S, 960, 975, 1062 1172
Travel Trailers: 1475, 1575, 1685, 1875, 1985, 1995, 2075, 2185, 2285, 2375, 2445, 2465
LEISURE TRAVEL VANS/TRIPLE E RV
E2
Class B
Unity, Wonder
MIDWEST AUTOMOTIVE DESIGNS
A3
Class B
Day Cruiser, Weekender, Passage
NEW HORIZONS RV CORP
D3
5th Wheel
Majestic, Summit
NEWMAR CORPORATION
E1
Class A
Bay Star Sport, Bay Star, Canyon Star, Kountry Star, Dutch Star, New Aire, Mountain Aire, London Aire
NEXUS RV LLC
F4
Class B+, Class C and Super C
Viper, Trumph, Triumph SC Wraith, Rebel, Ghost
NORTHERN LITE MANUFACTURER
F2
Truck Campers
8-11 EX wet Bath Limited Edition, 9-6 Limited Edition, 10-2 EX Dry Bath Limited Edition

NUCAMP RV
E3
Travel Trailers, Truck Campers
TAG,TAB,TAB 400 Teardrop Trailers,620 & 820 Truck Campers
PHOENIX USA INC
D2
Class C
Phoenix Cruiser, Phoenix TRX
PLEASURE WAY INDUSTRIES
E4
Class B
REGENCY CONVERSIONS INC
F5
Class B
Ultra Brougham, Ultra Continental, Xalta Ranger, Xalta Tour
REV RECREATION GROUP
A3
Class A
Fleetwood RV, American Coach, Holiday Rambler, Renegade RV Midwest Automotive Designs, Lance Camper
ROADTREK RV
A9
Class B
SHOWHAULER
F3
Super C
35KQSSL
THOR MOTOR COACH INC
D4
Class A, B and C
ACE, Axis, Challenger, Hurricane, Miramar, Outlaw, Vegas, Aria, Palazzo, Tuscany, Venetian, Gemini, Rize, Tellaro, Tranquility, Chateau, Delano, Magnitude,
Quantum, Pasadena
TIFFIN MOTOR HOMES
A6
Class A, B and C
Allegro Open Road, Allegro RED 340, Allegro RED 360, Breeze, Phaeton, Allegro Bus, Zephyr, Wayfarer, Cahaba, Convoy, Midas, Allegro Bay,
TRIPLE E RV
E2
Class B
Unity, Wonder
VANLEIGH RV
A6
5th Wheel and Toy Haulers
Ambitions, Beacon, Vilano
VENTURE RV
A5
Travel Trailer
Sonic, Stratus, SportTrek
WINNEBAGO
A7
Class A, B and C
Travel Trailer
Motorized: Class A: Adventurer, Forza, Journey, Vista,
Class B: Era, Revel, Travato, Solis,
Solis Pocket, National Park Foundation Solis, Class C: Minnie Winnie, View, EKKO
Towables: Minnie, Voyage, Hike 100, Micro Minnie, Micro Minnie FLX

What Type of RV is Right For You?
Type A Motorhome
Luxurious Amenities
Sleeps up to 6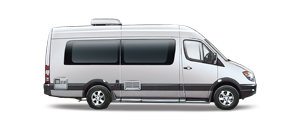 Type B Motorhome
Commonly called a van camper
Easy handling
Sleeps up to 4
Type C Motorhome
Similar amenities to Type A
Optional sleeping space over cab
Sleeps up to 8

Conventional Travel Trailer
Wide range of floor plans and sizes
Sleeps up to 10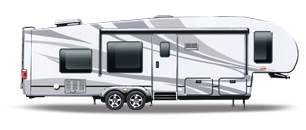 Fifth Wheel Travel Trailer
Two Level Floor Plans
Towed with a pickup truck
Sleeps up to 6
Expandable Travel Trailer
Ends pull out for sleeping
Lightweight towing
Sleeps up to 8
Folding Camping Trailer
Fold down for lightweight towing
Fresh air camping plus RV comforts
Sleeps up to 8
Truck Camper
Mounts on pickup bed
Sleeps up to 6
Park Model RV
Designed for seasonal and/or extended camping at a campground/resort
Under 400 square feet
Sleeps up to 10

Sport Utility RV
Built in garage for cycles, ATVs, etc.
Sleeps up to 8
Join Our Mailing List
Join the list and get exclusive sneak peeks and information before the show.